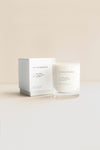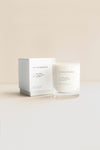 Free U.S. Shipping Over $100 & Free Returns
TOP NOTES: Muguet, Tuberose
MIDDLE NOTES: Gardenia, Jasmine
BASE NOTE: Amber Woods
Inspired by an enchanting stroll through the idyllic Jardin des Tuileries in Paris, this candle finds delicate floral notes of tuberose and muguet dancing above a heart of jasmine and gardenia, anchored by a heady base of amber woods.
Made in Brooklyn, New York with 100% soy wax for an eco-friendly clean burn. We use lead-free cotton wicks and premium fragrance oils infused with essential oils. Our candles are vegan, cruelty-free, phthalate-free, and petroleum-free.
This item is

final sale
Not eligible for gift boxing

Volume: 13 oz

Diameter: 3 3/8 in

Height: 4 1/4 in

Burn time: Up to 70 hours

Always trim wicks to 1/4 inch before lighting (we suggest using a wick trimmer). The first time you light your candle, let it burn for 3-4 hours to allow the melted wax to reach the edge of the container to prevent your candle from tunneling.

Follow the 2 foot rule - don't place a burning candle near clothing, books, curtains or anything flammable. Place candle holders on a stable, heat-resistant surface that is sturdy and large enough to catch any melted wax. Keep lit candles away from drafts, ceiling fans and any air currents. Never leave a burning candle unattended. Extinguish all candles when you leave a room or before going to sleep or if the flame gets too close to the candle holder or container. A candle should not be burned for more than four hours at a time. For a margin of safety, discontinue burning a candle when 1/4 inch of wax remains in the container.

Gift Boxing
Please note this item is not eligible for gift boxing.